How Extraordinary? Reflections On Past Elections and Their Market Impacts
"Legacy. What is a legacy? It's planting seeds in a garden you never get to see." — Lin-Manuel Miranda, "Hamilton: An American Musical"
The spectacular popularity of the musical "Hamilton" made the biography of Alexander Hamilton by Ron Chernow a New York Times best-seller. Variety reported that the filmed version of the musical was the top streaming title in July 2020 and "constituted the largest audience amassed by any one program over the course of one month this year," according to audience viewer data tracking Amazon Prime Video, Apple TV+, Disney+, Hulu and Netflix.1
Two points from Chernow's biography strike home related to today's world.
OUR NATION, IN ITS EARLIEST DAYS, SURVIVED AN EVEN MORE DEADLY PANDEMIC
The first is discussed in the chapter about the yellow fever pandemic that struck the United States in 1793, just six years after the Constitution was signed. The epidemic killed about 10% of the population of Philadelphia, our nation's capital at the time and the epicenter of the outbreak, and it led to northern states imposing a mandatory quarantine for any traveler along the Atlantic seaboard. Many stores closed for several months, and the wealthiest citizens fled to country houses or homes in other states. Yellow fever resurfaced regularly during the early years of our country, often shutting down commerce. While we rightly think of the world as very different today, there are striking similarities, and yet, our fledgling country endured.
A Political Divide Played Out in the Field and in the Press
If ever there were a time for solidarity and political union, you would think that would be it, with our founding politicians having just survived the Revolutionary War and a major pandemic. But that leads us to our second takeaway: The political differences between parties were perhaps never more extreme and the attacks at no time more personal than in the early years of our country's formation. The political divide separating the Federalists and Anti-Federalists at the Constitutional Convention of 1787 and the years after would surprise many people. On the one side, leaders of the Federalist Party advocated for a president who would serve for life (in effect, an elected monarch). The other party wanted virtually no federal government, advocating for a loose affiliation of independent nation-states (among other things, no taxes, no standing army and the continuation of slavery). It is also worth dispelling the notion that these men were as austere as their portraits. That early era of politics involved highly personal attacks carried out both in person and in the press. Insinuations of infidelity, fraudulent schemes and abuses of power were published with incredulity in the press under pseudonyms. Fisticuff brawls and duels were not unheard of between early congressmen — Hamilton was involved in as many as a dozen duels through his life — most of which resulted in verbal reconciliation rather than shots with the last leading to his demise.
Our Country Will Endure
The point of these two conditions is that our country has endured both pandemics and political infighting since its founding. There are innumerable other examples throughout our country's history. It puts into perspective that the turmoil of this election is not extraordinary, but rather more a recurring theme of antagonistic debate and dire predictions that regularly occur in election years. In past presidential elections going back to President Herbert Hoover's election, the average return during an election year was, surprisingly, higher than the average return the year subsequent to an election. Despite the uncertainty introduced by the changes of power that have occurred, when the election is over, we know who has won and the country moves on.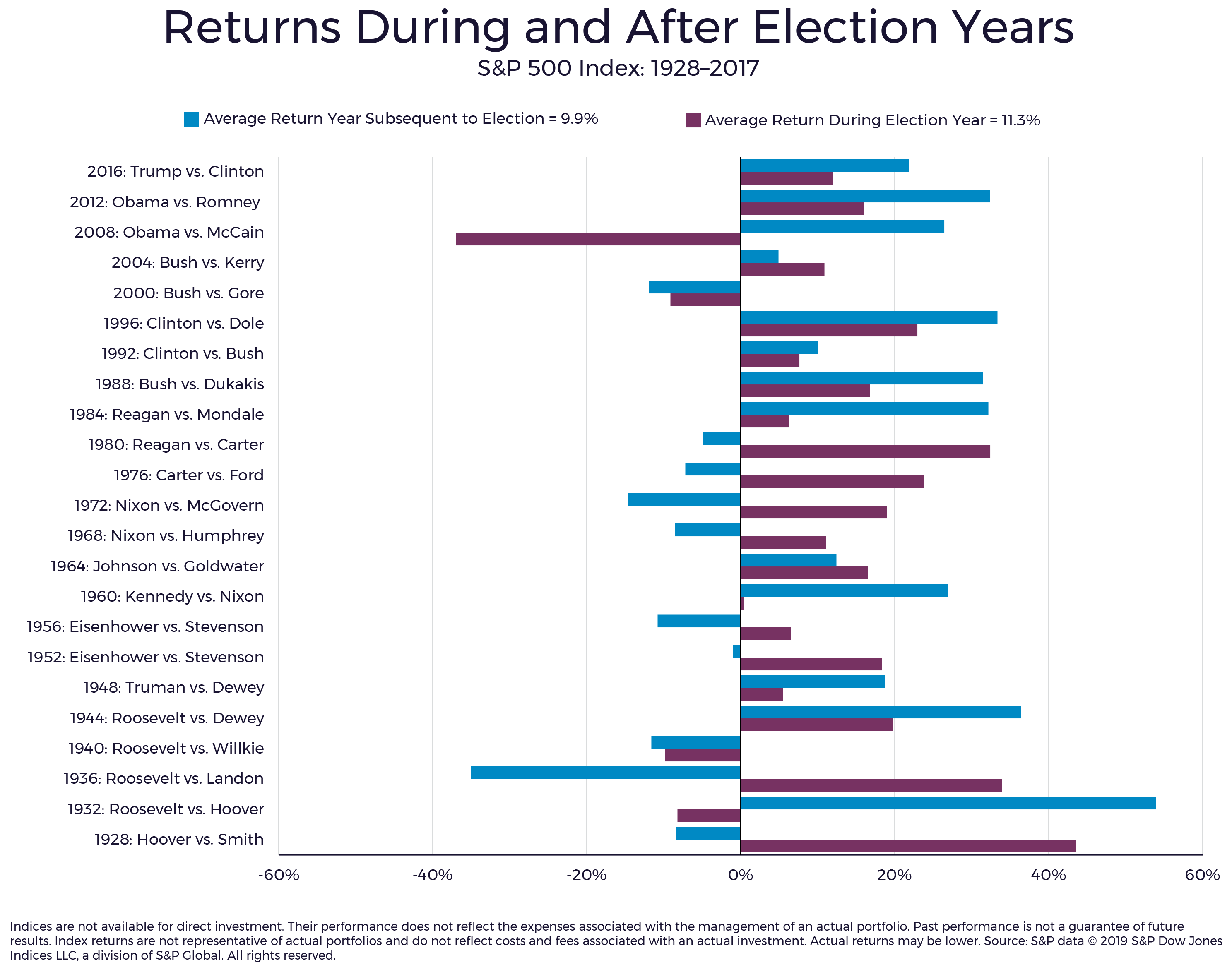 There has also been no discernable difference between Republican and Democratic winners. Even looking at periods when the House, Senate and presidency were controlled by a single party, when broader regulatory change might be expected, there is no evidence that either party being in power has resulted in higher stock market returns.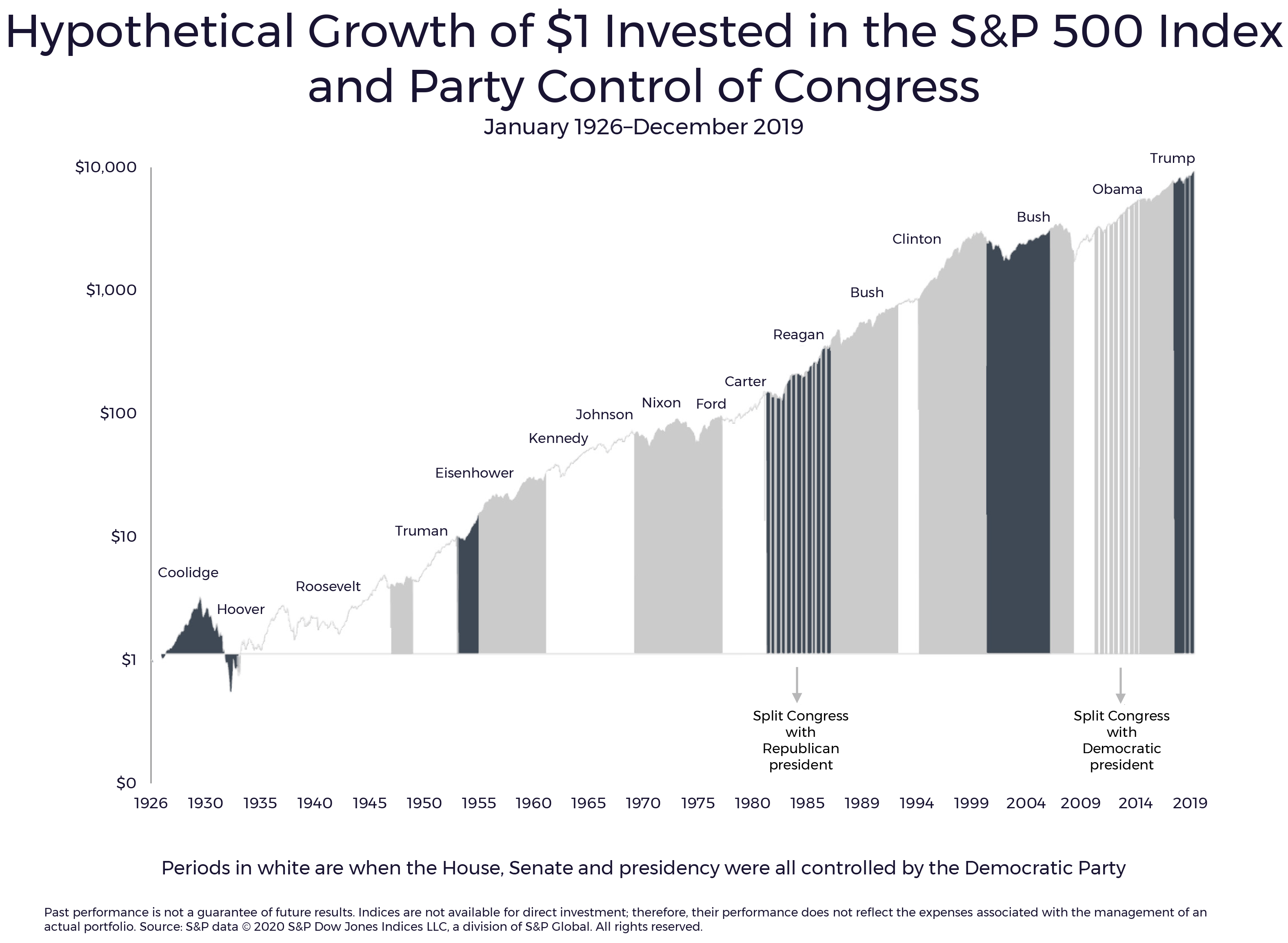 Holding all else constant, our economy and the stock market tend to go up in the long run despite political outcomes. What we do know is this: In the long run, staying invested in the market has worked out far better than getting out to avoid the rare exception. In closing, we know that it can be difficult to be optimistic in times like these, but for all its volatility and its uncertainty, the act of investing is at its root an act of optimism. It is grounded in our belief that the world tomorrow will continue to expand — with new technologies and human ingenuity leading to improvements in our lives. The elevation and comfort of our lives, compared to the life of an average American 200 years ago, even with COVID-19 limiting our activities, is extraordinary and something we see continuing with advances in medicine, in artificial intelligence, in productivity and in the creation of new conveniences that make the daily life of billions of people better in the years ahead. "Look around, look around at how lucky we are to be alive right now." — Lin-Manuel Miranda, "Hamilton: An American Musical"
SOURCES
1 Kevin Tran, "'Hamilton' Far Bigger Than Anything on Netflix in July, Audience Data Reveals." Variety.com, August 10, 2020.
Lin-Manuel Miranda, "Hamilton: An American Musical." (book, music and lyrics)
Lin-Manuel Miranda and Jeremy McCarter, Hamilton: The Revolution. Grand Central Publishing, 2016.