Going to College and Managing Higher Education Costs
When so much emphasis is placed on being accepted to prestigious colleges, students and their families need to consider how their decisions can shape a student's life years after graduation.
The cost of a college education continues to rise. Even with increased focus on the issues of student loan debt and debt forgiveness, college costs (adjusted for inflation) have approximately tripled since the 1980s.1
At Forum, we remind investors to focus on what they can control. The same counsel applies when students and their families begin to investigate different colleges.
In his 2021 book, The Price You Pay for College, author Ron Lieber summarizes the process from the perspective of converging goals: "There is a system at work here. Why not treat the process of trying to beat it — to gain admission against what can be long odds, to get a good deal, to figure out how to maximize every minute of every year on campus, to end up somewhere where you can get every dollar's worth and then some — as a family project that is actually fun? This process need not be confrontational."2
We suggest having a written plan to provide long-term perspective and balance the excitement of campus visits and acceptance letters. The place to start is to compare all associated costs (not just tuition) as well as how much financial assistance is being offered and how much has been saved for college expenses. We help families address:
How to evaluate the costs of higher education relative to a student's goals and aspirations
How to intelligently manage and eventually pay off student loan debt
Don't Underestimate How College Savings Can Change the Borrowing Equation
The longstanding college planning resource Saving for College designed what they refer to as the "World's Simplest College Cost Calculator." This calculator gives students and their families a clear view of the potential college savings gap or surplus based on different scenarios, including current college savings, future monthly savings contributions, household income and type of university. We compared two saving scenarios for a student who will attend an in-state public university.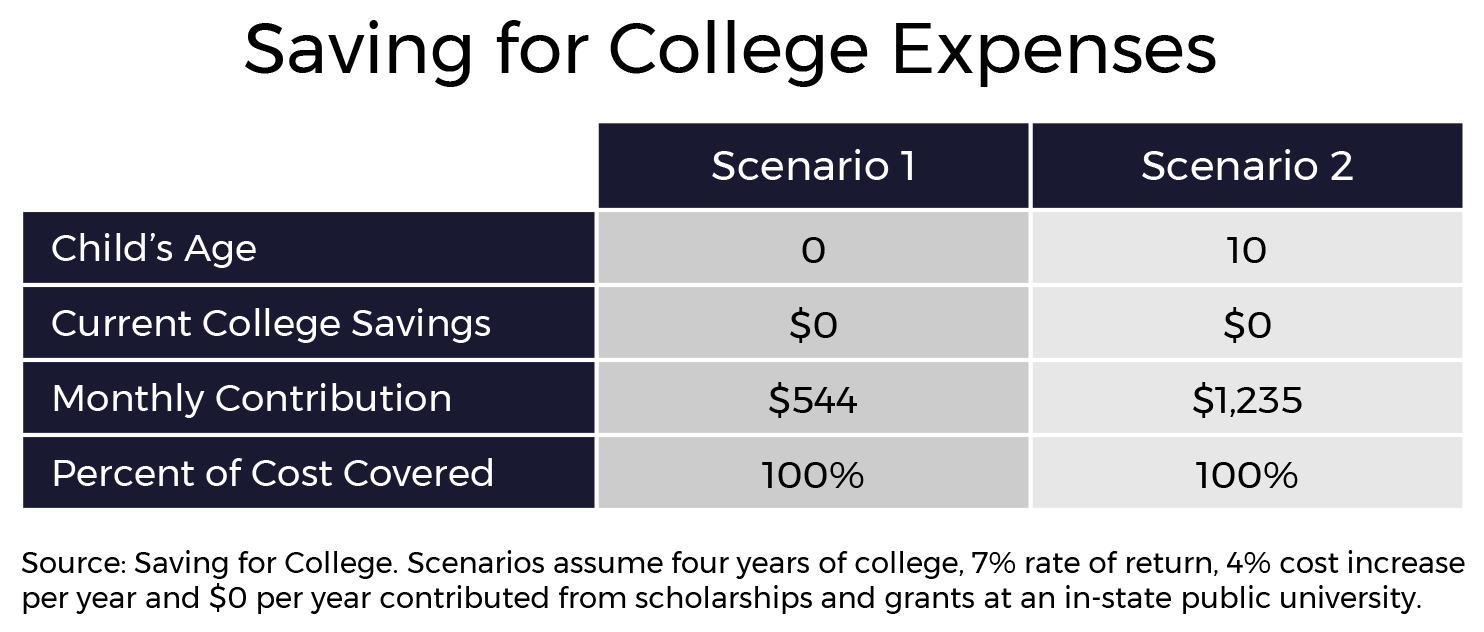 How Much Student Loan Debt Is Too Much?
Student loan debt has been growing at a breakneck pace since the late 1990s. In August 2011, The Atlantic described the rate of growth as "startling" and "staggering" and referenced data from the New York Federal Reserve: "In the first quarter of 1999, just $90 billion in student loans were outstanding. As of the second quarter of 2011, that balance had ballooned to $550 billion."3 Two decades later, outstanding student loan debt stood at $1.58 trillion (as of the fourth quarter 2021).4
It is important for students to understand the amount of debt for which they will be responsible in relation to their earning power. That said, pursuing higher education is a wise decision even when viewed from a purely economic perspective.
Graduates with a bachelor's degree are both more likely to gain employment and earn an average salary of $20,700 more than their peers who only graduate from high school, according to annual earnings data for 2019 from the National Center for Education Statistics.5
This is the first level of analysis to consider — that earning a college degree does improve the chances of attaining a higher quality lifestyle. The second level of analysis, however, dives deeper into the economic tradeoffs that offset the cost of living during those years and the foregone wages during the years not spent in the workforce.
Understanding Student Loan Debt and Other Household Debt
The first step in debt management is to understand how much is outstanding, the type of debt and the interest rate. With that information, it is easier to develop a plan.
For example, if you have other debt like a mortgage or credit card debt that have higher interest rates, the best decision may be to pay the minimum amount due on your student loans, so that you can pay down the higher interest rate debt first. Some people can also refinance their student loans over a longer term and take the money saved directly to pay off the higher-interest debts faster.
As a general rule, if the highest interest rate is below 5%, then there may be reason to consider not prepaying the higher education debt and instead contributing to an investment account or paying down other debt.
Another way to pay down debt is to participate in a federal or state student debt forgiveness program such as the Teacher Loan Forgiveness Program. This federal program forgives up to $17,500 for borrowers with qualifying federal student loans who teach full-time for five consecutive years at a qualifying elementary or secondary school.6
Ron Lieber on student loans: "Gallup research from 2015 showed that almost half of recent graduates who had any debt at all had postponed additional training or graduate school. About a third had delayed purchasing a car or house due to the debt. … We want our kids to be on the right side of those numbers if at all possible so their next big life choices won't have anything to do with how much money they owe."7
Graduation Day
Even with all the financial considerations, the personal fulfillment that comes with obtaining a higher education should not be discounted. The greatest reward for many students will be realizing the path they want to follow and gaining the confidence to pursue those dreams.
That is why having a plan in place that outlines associated expenses can benefit a student over the long run. If you have questions about how to build a plan for managing college expenses, connect with a Forum advisor who can help you evaluate your options.
SOURCES
1 "Trends in College Pricing 2019." College Board.
2 Ron Lieber, The Price You Pay for College. HarperCollins Publishers, 2021.
3 Daniel Indiviglio, "Chart of the Day: Student Loans Have Grown 511% Since 1999." The Atlantic, August 18, 2011.
4 "Quarterly Report on Household Debt and Credit." Federal Reserve Bank of New York, February 2022.
5 "Fast Facts: Income of Young Adults." National Center for Education Statistics. Accessed February 15, 2022.
6 "Teacher Loan Forgiveness." Federal Student Aid, An Office of the U.S. Department of Education. Accessed February 15, 2022.
7 The Price You Pay for College.
By clicking on a third-party link, you will leave the Forum website. Forum is linking to this third-party site to share information in a different format and is for informational purposes only. However, Forum cannot attest to the accuracy of information provided by this site or any other linked site. Forum does not endorse the site sponsors or the information or products presented there. Privacy and security policies may differ from those practiced by Forum.